Optimized for stationary dictation and speech recognition
Dictate without disrupting text flow – pushbutton commands require minimal thumb movement. The new microphone technology guarantees excellent speech recognition.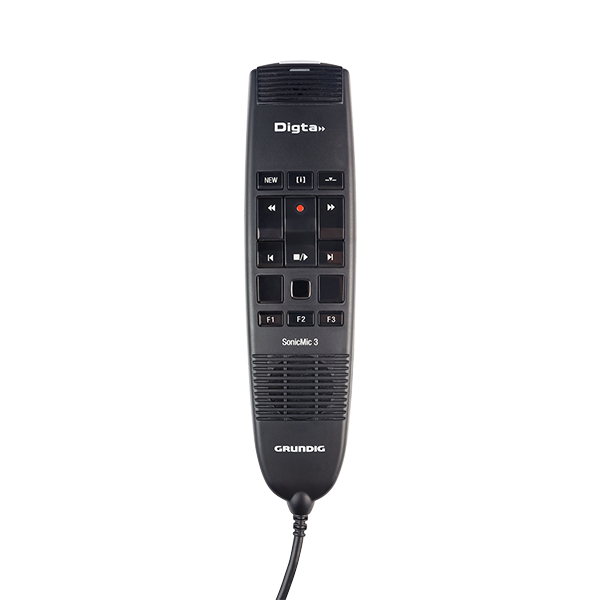 The advantages are right there in your hand
Perfect dictation control: recording and speech recognition are controlled with the touch of a button through a direct interface with Dragon NaturallySpeaking and other dictation software
Outstanding speech clarity provided by frequency-optimized microphone capsule positioning and pop filter
Brilliant recording quality and clear playback with integrated sound card and powerful loudspeaker
Simple button controls: rocker switch for recording and playback
Individually programmable control buttons: Clearly organised configuration tool with graphical support for assignment of hotkey and speech recognition commands.
Outstanding ergonomics: user-friendly operation provided by logical button layout. The polished surfaces of the control elements minimize touch noise. The special housing shape allows air circulation, preventing palm sweating.
Precise mouse control with optical track pad and mouse buttons
Additional trigger switch on the bottom of the device just in the position of the index finger – can be used for mouse click or other functions
Professional, long-lived work device with outstanding price-performance ratio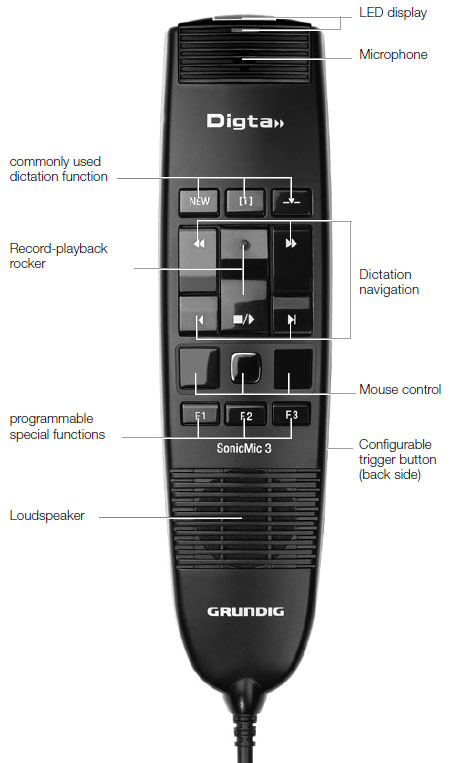 Digta SonicMic 3 dictation microphone including configuration tool "Digta Configurator desk"
(download at www.grundig-gbs.com)
Available together with dictation software or speech recognition software. Simply ask your Grundig Business Systems partner.