Let your voice do the work with AI‑powered speech recognition
Save your organization time and money with cloud‑hosted speech recognition for the enterprise and public sector. Dragon Professional Anywhere integrates directly into workflows to empower your workforce to create high-quality documentation.
Your words mean business—make them count
Nuance's Dragon Legal Anywhere helps attorneys, judges, clerks, paralegals, and other legal professionals create high-quality documentation, in less time, by using the power of their voice.
Achieve higher‑quality documentation and greater flexibility
Mission critical documentation should be dictated by knowledge workers and field professionals, not technology limitations. Conversational AI empowers private and public sector professionals to document more naturally.
Enables professionals to quickly and easily document the details of client meetings using speech recognition that is 3x faster than typing and up to 99% accurate. Most people speak at over 120 wpm but type at less than 40 wpm.
Speak freely and as much as you like with no per-user limits. Business professionals can stay productive anywhere and focus on their clients and business rather than the technology.
Greater accuracy and automatic updates
Achieve up to 99% accuracy with no voice profile training required, and a single cloud‑based profile that is auto‑established on first use. Manual activities such as accent adjustments and microphone calibration, are now automatic, providing greater accuracy, a lower word error rate and an optimal user experience from the start.
Easy to install, maintain and scale
No complex configurations, one‑click installation and automatic updates mean less work for your IT staff, less hassle for your employees, and users can be up and running within minutes. Once deployed on the server‑side, new client licences can be deployed at scale and with ease.
Dragon Professional Anywhere supports HIPAA requirements for security and confidentiality in public sector settings such as social services by employing secure encryption methods throughout the workflow. Our cloud solutions feature 99.5% uptime and run on geographically dispersed, active‑active, data centers hosted on Microsoft Azure, a HITRUST CSF certified hosting infrastructure.
Affordable, subscription‑based pricing with little up-front capital investment makes it easier for public and private sector businesses to plan budgets with predictable expenses.
Anchor Dictation in action
Have you ever wanted to dictate into a document while simultaneously keeping your eyes fixed on a separate window as a reference for your dictation?
Watch one of Dragon Professional Anywhere's most powerful features—Anchor Dictation—in action and turbocharge your documentation productivity.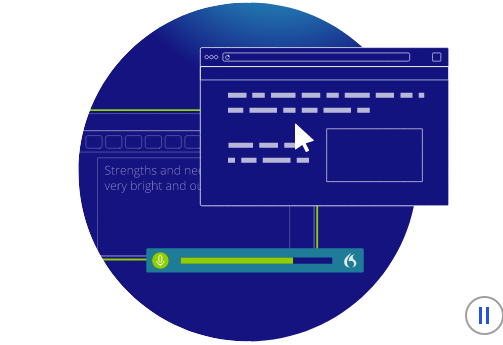 Work better, faster and smarter with accurate dictation and transcription
Fast, extremely responsive and highly accurate out of the box enterprise speech recognition with speech profiles that can be easily accessed across multiple devices.
No complex configurations, one‑click installation and automatic updates mean less work for your IT staff, less hassle for your employees, and users can be up and running within minutes.
Allows knowledge professionals to anchor the text transcription within a particular document, even while they have their cursor and mouse positioned in another window (i.e. when referencing a web page).
Support for thin client hardware, server virtualization, as well as Citrix environments. Allows for fast and easy integration into existing IT infrastructure.
The client connects to a server component that is installed using 256‑bit encryption. Data is encrypted in transit and at rest.
Cloud‑based technology ensures professionals have access to the most recent updates and that all users are working with the same software version.
With a next‑generation speech engine powered by Nuance Deep Learning technology, Dragon achieves high recognition accuracy while dictating, even for users with accents or those working in open-office or mobile environments.
Protects against interruptions and allows users to continue using basic speech services if the Nuance Management Server (NMS) database becomes unavailable.
Supports Citrix XenApp®, Citrix XenDesktop®, VMware® Horizon View, RDSH Server or Microsoft® Remote Desktop Services, enabling users to dictate from workstations and thin clients.
The Nuance Management Center makes it easy to track employee usage of Dragon, redistribute licenses based on usage, and manage or share customizations, including custom words, commands and auto‑texts, across multiple users.
Dragon Anywhere Mobile for iOS and Android devices
Extend the capabilities of Dragon Professional Anywhere with the addition of Dragon Anywhere Mobile. Dragon Anywhere Mobile is professional‑grade mobile dictation allowing users to create, edit and format documents of any length and share information directly from a mobile device.
Your work doesn't stop when you are away from your PC. Whether you are a Certified Financial Adviser, a police officer or a case‑worker, Dragon Anywhere Mobile extends your ability to capture critical information at the point of interaction.
To help keep busy professionals productive, customizations—such as an Auto‑Text or unique verbal commands—created in Dragon Anywhere Mobile are automatically synchronized with Dragon Professional Anywhere and vice versa. This allows work started away from the office to easily be completed when you are back at your desk.
Financial services and insurance
Dragon Professional Anywhere is a smart investment for insurance and financial services professionals.
See how to create client financial plans with Dragon Professional Anywhere
Improve financial documentation by creating client plans, reports and other documents 3 times faster than typing
Improve compliance by quickly memorialising client interactions, document disclosures and detailed action plans
Deliver better client service by improving document workflows and refocusing on client service, not paperwork
Reduce time and costs by reducing reliance on administrative staff or outside transcription services
Dragon Professional Anywhere supports HIPAA requirements for security and confidentiality to help comply with sensitive casework documenting client visits.
Improve report immediacy and specificity by capturing information at the point of interaction by voice, and not relying on handwritten notes
Increase casework volume without sacrificing quality. Speed up turnaround times, meet deadlines and move information to better serve client needs
Manage communications more effectively by authoring, sharing and streamlining agency workflows, all by voice
Increase job satisfaction by empowering caseworkers to spend more time solving client challenges, and less time on administration
See how to create case notes with Dragon Professional Anywhere
Social Work Today | On-demand webinar
Streamline documentation—from automating the completion of form-based templates to dictating client assessments
Make the most of cloud technology to dictate notes on a smartphone at a client site—then access a transcription of the notes on the caseworker's laptop upon return to the office
Ensure documentation—whether captured on a smartphone or a laptop—is secured and understand how Nuance technology aligns with industry-standard security frameworks
Highlights: How Caseworkers can be Productive Anywhere
Dragon Professional Anywhere for policing builds upon the success of Dragon Law Enforcement to extend the ability of officers and inspectors to capture incident reports and investigatory notes at any time and anywhere.
See how to create incident reports with Dragon Professional Anywhere
Speed up data entry within Records Management Systems to create mandated incident reports and other documentation with the detail and specificity prosecutors need to advance criminal proceedings
Extend the settings where officers can securely capture critical incident details with Dragon Anywhere Mobile for iOS and Android devices
Keep officers safe by helping them to keep eyes on the action, reducing distracted driving and maintaining social distance by completing reports in their vehicle and not at the station
Reduce employee burnout by empowering officers to be at their best to protect and serve communities through active policing
Highlights: How Officers can be Productive Anywhere
Police Magazine | On-demand webinar
Cloud technology is enabling secure mobile documentation, complementing the incident reports entered into an officer's mobile data computer
See the benefits of utilising the 'always up‑to‑date' speech‑recognition software department‑wide
Departments can extend existing investments in hardware and mitigate the need for major capital expenditures
See what you + Nuance can do
Schedule a demo and see how Dragon Professional Anywhere empowers professionals to produce documentation 50% faster and capture up to 20% more relevant content.